Here at Daly's Expert Hardware we specialise in providing our valued customers with paint supplies for both interior and exterior paint jobs. We also provide customers with all the paint accessories they'll need for their next painting project, including brushes, scrappers and rollers.
Our dedicated staff of experts is on hand to help advise clients on the right products for their household requirements. We provide clients with a range of colour charts to help them make the right choice. Our colour tinting service ensures that the paint they decide upon is just the right shade for their property. Our team can also advise on appropriate primers and wood finishes for outdoor decking or wooden furniture.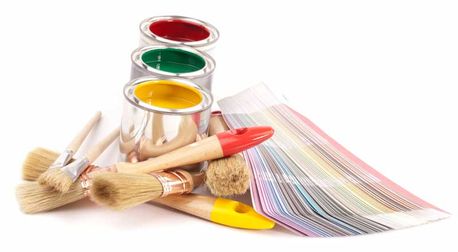 For more information on our range of services, get in contact with Daly's Expert Hardware today.
Our Supplied Paint
We specialise in providing customers with the entire range of Deluxe weather shield paints. This long-lasting and weather resistant paint has been speciality formulated to stand up to the often unpredictable Irish weather for longer than other paint formulas.
Deluxe weather shield paints come in a variety of vibrant colours from traditional house colours to brighter more modern shades. Our team of highly trained specialists are available to offer clients friendly practical advice in regards to our paint range. With Daly's Expert Hardware you can be assured that you'll always get the right paint at the best possible price.